Say goodbye to sticky sprays and hello to Thermacell!
Do you love to entertain in the backyard, go camping or hunting in the woods, but you hate mosquitoes? Then pick yourself up a Thermacell! With various types and models, there is one for everyone. Don't let the mosquitoes stop you from enjoying the party. Stop by TC Outdoors today to pick up your Thermacell!
Fuel-Powered Thermacell Mosquito Repellents
Perfect for hunting, hiking, or just hanging out in your backyard, the Thermacell portable line will keep you protected. All three models create a 15-foot zone of protection, portable and lightweight with no spray and no mess. The MR450 is the most advanced of the portable models with a ZoneCheck that provides a visual indication when a zone of protection is created.
If you love to entertain then let your guests enjoy the party with a Thermacell Patio Shield. Each model creates a 15-foot zone of protection with no smell or DEET. The Lexington Mosquito Repellent Patio Shield has an ambient flickering light and decorative design that is perfect for entertaining. The Halo Patio Shield is the most advanced fuel-powered Repeller. It has a contemporary design and can run for 48 hours.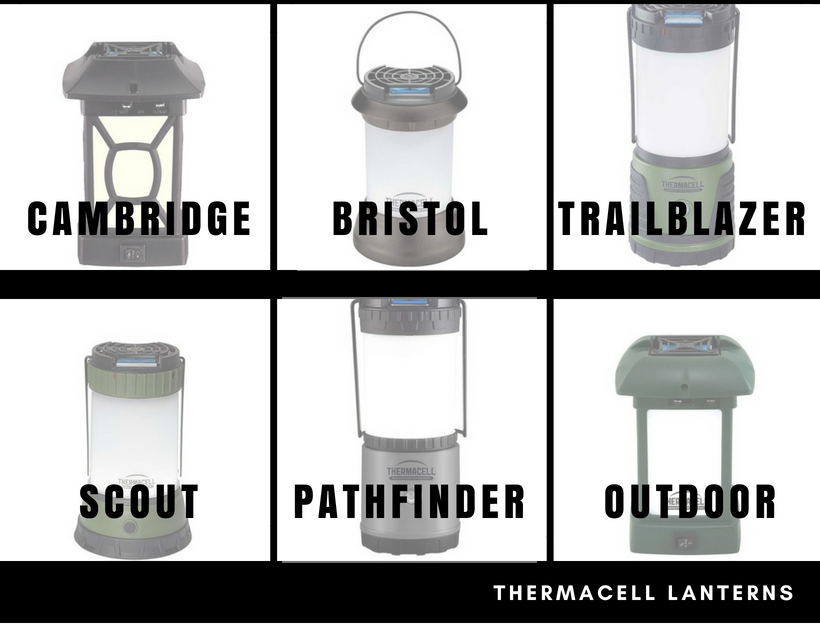 Perfect for entertaining in the backyard or camping outdoors, the Thermacell Lanterns provide a 15-foot zone of protection to keep you protected from those pesky mosquitoes. Each unit can operate solely as a lantern if you don't need the repellent that night. The Trailblazer is the brightest with 300 lumens with a 50-hour run time.
Battery Powered Thermacell Mosquito Repellent
Mosquito protection at the push of a button! The easy-to-use Thermacell Radius Zone Mosquito Repellent is rechargeable, scent-free, compact, powerful, and operates with a single refill component. Powered by a Lithium-Ion battery (rather than fuel), Radius creates a 110 square foot mosquito protection zone. Radius is also air travel friendly and consistently operates at any elevation.